iMarketREI
Market your properties on the web for FREE !
Your properties will be accessible from anywhere to anyone! Add links to your website, newsletter, e-mails, etc.
Learn more about iMarketREI
Free Widget for your website
Offer your website's visitors the possibility to analyze an income property, by integrating a free calculator to your web site. This tool shows the profitability of a Real Estate investment and evaluates the sale price according to a desired cash on cash return.
Integrate this free widget to your website !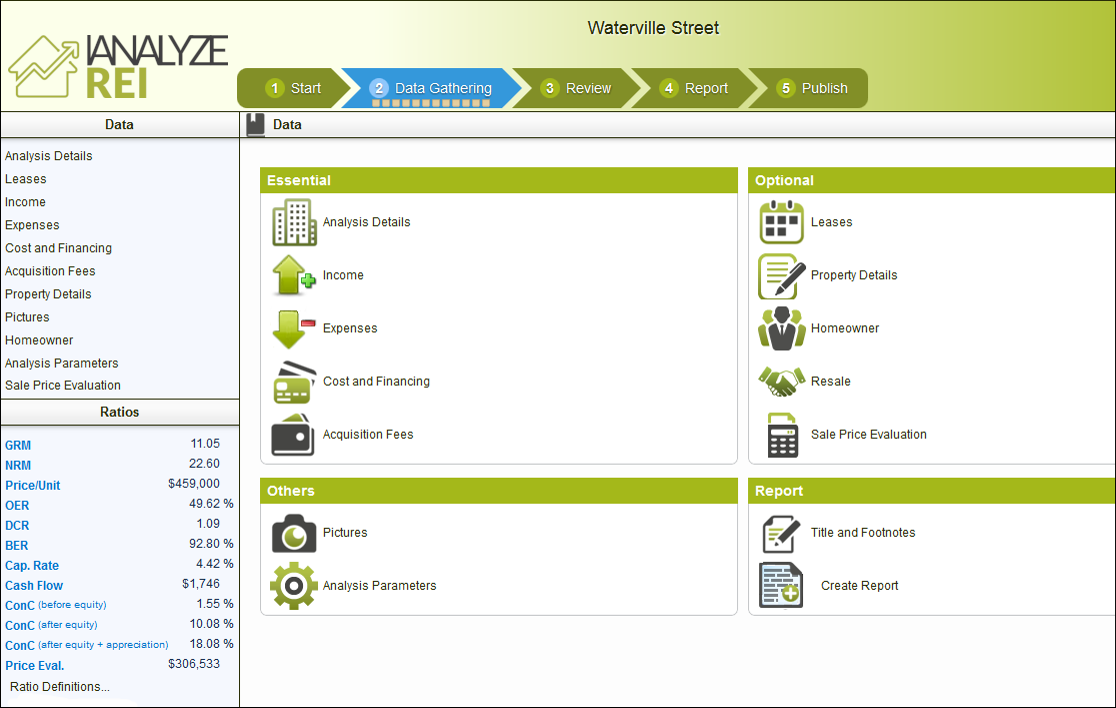 Automatic analysis revision
Step-by-step data gathering
Sell price evaluation feature
Overview
iAnalyzeREI is an essential tool for all Real Estate professionals!
Designed with a user-friendly interface, iAnalyzeREI is the ideal software to produce a complete and trustworthy income property analysis. Enter the information on hand and click on the arrows to continue. iAnalyzeREI will guide you step-by-step, from beginning to end. Once you have entered all of your information the analysis revision window will suggest improvements to make and allow you to modify your data if needed.
An impressive and professional report will later be produced, containing a detailed analysis of the building in question. Regardless of your computer skills, you will be an iAnalyzeREI expert in no time!
Furthermore, iAnalyzeREI calculates the property's selling price according to your desired return rate!
Analyze any kind of Real Estate investment
iAnalyzeREI can handle all sorts of income-producing Real Estate (Multifamily, commercial, plexes, etc.). Moreover, the reports produced by iAnalyzeREI are well-illustrated to accurately pinpoint the advantages of living in a plex rather than renting an apartment.
Multi-family or commercial properties can also be analyzed, regardless of their size, thanks to special features that adapt to the building's type. For a residential lease, you should enter the number of rooms, the apartment's surface, the rent, included services, etc. While gathering information to register a commercial lease, you will be able to enter even more specifications according to the rent such as: common space, occupied space, initial rent cost, operating expenses, etc.
Unlimited apartment quantities
Commercial leases specially adapted
Professional Reports
Not only is iAnalyzeREI professional and dynamic, filled with pertinent information, it also produces quality reports. The information displayed makes the report easy to read and understand, even for novices. Try it and see for yourself. Choose the complete report or the abbreviated version, according to your needs. You can even tell the software exactly what information to print so that the report has everything you want and nothing you don't.
If you want to add a personal touch, your picture and your logo can also be inserted in the document.
Complete report, colorful and legible
Available abbreviated version
Professional aspect
Personalize document for your client, friend or financial institution
Général
Market your properties on the web !
Your properties will be accessible from anywhere to anyone! Add links to your website, newsletter, e-mails, etc.
Click here to view a sample
iAnalyzeREI is a Web-based software. No installation, no download, no cd necessary. Available anywhere at any time.
User-friendly interface, step-by-step data gathering and automated analysis revision.
Comparison of an unlimited number of buildings or financing scenarios.
Automated analysis verification! This tool will correct you if an error has occurred, for an accurate and realistic analysis.
Share your analyses with colleagues and other iAnalyzeREI users, an easy way to increase productivity.
Send your reports via E-mail directly from iAnalyzeREI.
Financial ratios
More than 15 performance ratios instantly calculated
Gross Rent Multiplier
Net Rent Multiplier
Operating Expenses Ratio
Break Even Ratio
Internal Rate of Return
Cash on Cash Return before/after Equity before/after Appreciation
and many more...
Data
Flexible mortgage (frequency, amortization, interest rate)
Unlimited number of mortgages to finance a property (balance of sale, 2nd mortgage, collateral) all this, under different conditions (interest rate, payment frequency, etc.)
Unlimited number of income sources
Unlimited number of expenses
Modify the inflation of income and expenses independently for each year in the financial forecast.
Detailed leases (multifamily and commercial). Unlimited number of leases. (Start date, length, tenants, included services, etc.) Possibility to increase the rent for every lease.
Acquisition fees can be entered (Notary, inspection, taxes, etc.)
Predicted major renovations can be entered.
Evaluate the benefits for a homeowner of buying a plex rather than living in an apartment.
Estimate the resale yield of properties.
Detailed property description.
Reports
More than 15 reports in color with graphs. Professional look !
Acquisition Cost and Financing
Sale Price evaluation
Financial Forecast
Graphic Financial Forecast
Profitability Analysis
And many more...
Support and subscription
FREE technical support by E-mail and toll-free number.
No contract! No activation fees! No penalties! You can stop using iAnalyzeREI whenever you decide!
To make an informed decision when buying or purchasing an income property !
FREE, fast and courteous customer support !
iAnalyzeREI is easy to use and produces professional reports